Frequently Asked Questions
What is a panel?
Panels are the broad areas that the screen is divided into, to allow you to control what you see in the visual central map panel, and its associated data.
1map divides the screen into four panels. This allows you to:
[2] see the map in the centre panel,
[1] direct the app to a point on the map using the "search panel" options to the left of the map,
[3] define what visual information you want to see in the map by choosing layers using the "layers panel" , to the right of the map, and
[4] access the detailed metadata connected to any property you choose by opening the "Active Layer" panel above the map.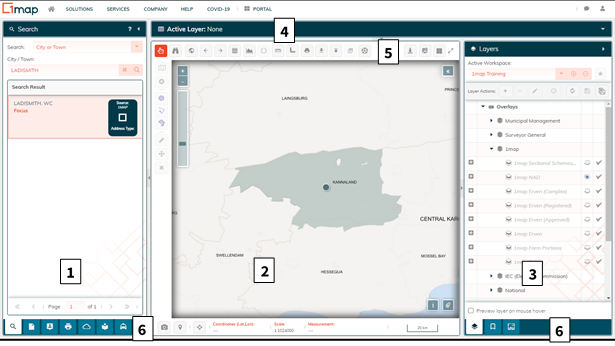 [5] is a taskbar of buttons where you initiate processes you can apply to the map, and
[6] is the tags you can use to access additional functions in the left and right panels.